Prayer is central to our life at St. Paul's. It is our sacred privilege to pray for you.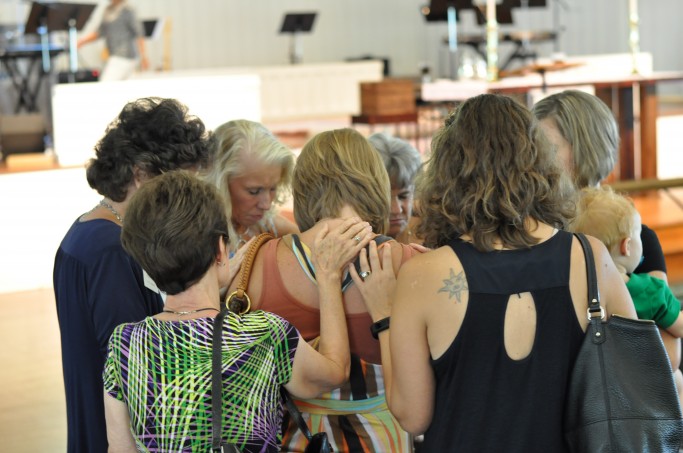 Sunday Morning Prayer Ministry
Each Sunday, Prayer Ministers are available during Communion in the Doar Hall service to offer the laying on of hands for healing. Our ministers have been trained with Christian Healing Ministries. Our Lord wants to freely give healing, restoration, and comfort to His people and we encourage you to come with any needs for prayer.
Extended Prayer Appointments
This ministry is for those who need a longer amount of time for prayer, who may be struggling with life issues relating to grief, addictions, emotional wounds, destructive life patterns, etc. Our Inner Healing Prayer Ministers have had extensive training and are gifted in dealing with these deeper matters.
Intercessory Prayer
We keep a parish prayer list which is administered by our Pastoral Care Committee. We have a dedicated team of intercessors who pray over the prayer list each week. If you have a prayer need, please submit a prayer request.
Prayer Room
A Prayer Room is located on the second floor of Ambler Hall. This is a quiet, sacred space, equipped to make your time with the Lord comfortable, pleasant and a perfect place for Soaking Prayer (longer, silent intercession made for you while you rest), prayer groups, and individual prayer. Schedule use of this room with Heather Jackson.
Join us this summer for Nights of Prayer + Praise! We will worship in song, focus on a passage of Scripture, and provide a time and place for prayer. Please bring your Bibles.
St. Paul's invites you to join us for 21 Days of Prayer and Fasting, November 1-21st.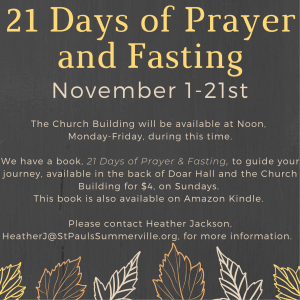 Our Prayer Ministry and Connections Coordinator, Heather Jackson, has put together a few incredible resources to discuss the importance of this time.
We will have the book, 21 Days of Prayer and Fasting, available for purchase in the back of Doar Hall and the Church Building, on Sunday morning. The cost will be $4.
Father Tripp invites you to join him next week for a Cottage meeting. These meetings will provide information, and fill you in on the dream that has been a part of our St. Paul's community for 20 years, and how we plan to move forward.
Sunday, November 14th at Noon, in Ambler Hall
If you are unable to attend, we have provided a video presentation below!