St. Paul's Anglican
Welcome to St. Paul's Anglican! We're so glad you're here!
Rooted
 

in the past yet relevant today:  St. Paul's

 

sows

 

the Good News of Jesus for all people,

 

cultivates

 

servant leaders, and

 

grows

 

neighborly communities.
How to Find Us
Church campus address:
316 W. Carolina Avenue, Summerville, SC 29483
Our Church offices:

Skardon Hall,  111 Waring Street, Summerville, SC 29483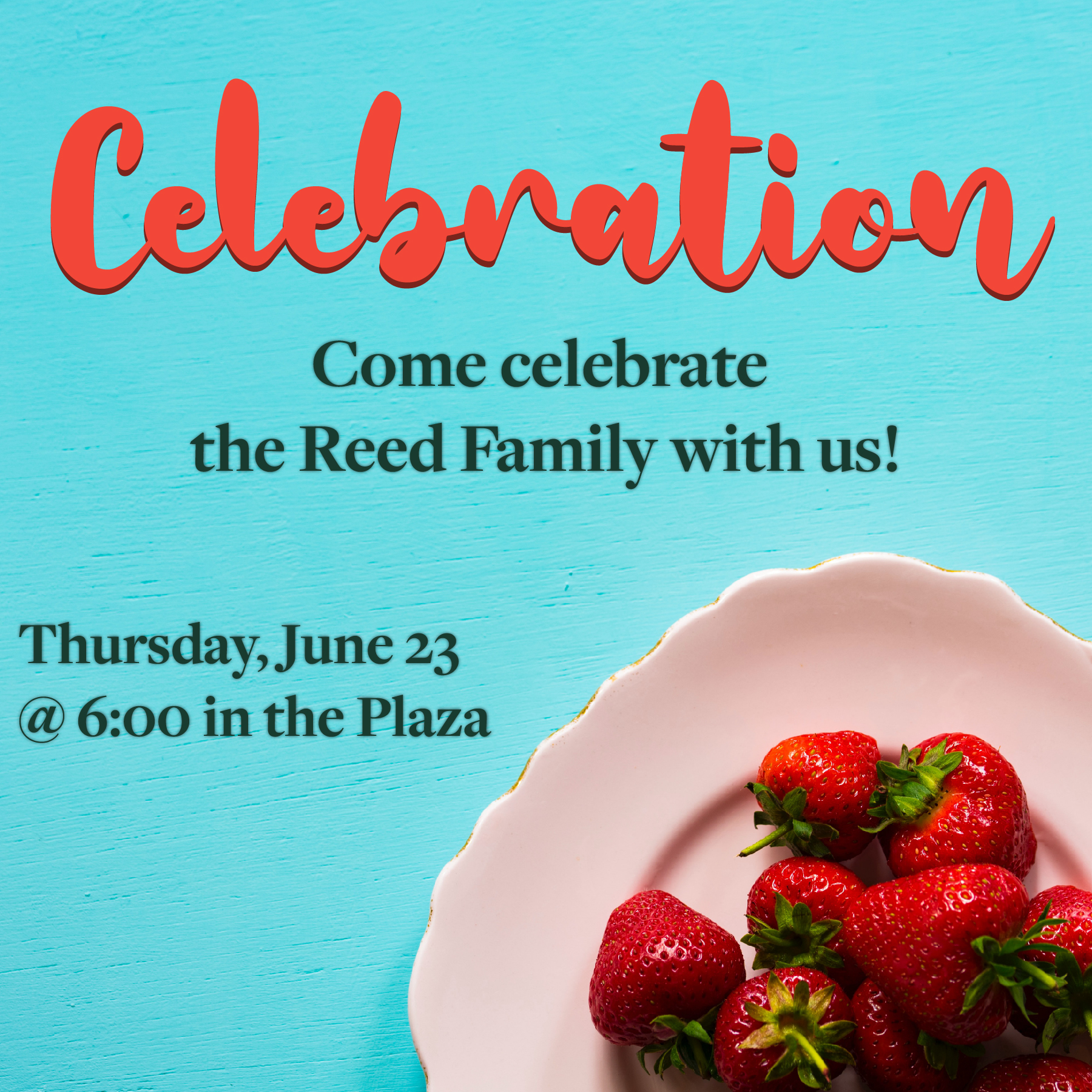 Celebrate the Reed family's ministry at St. Paul's with a cookout on June 23 at 6pm on the Plaza! We ask that those attending bring a covered dish, and there will be ice cream sundaes provided. We will also be taking up a love offering to help with their transition to Trinity School for Ministry in Ambridge, PA this summer. For more information, please contact Vicki Harlan at vwharlan@gmail.com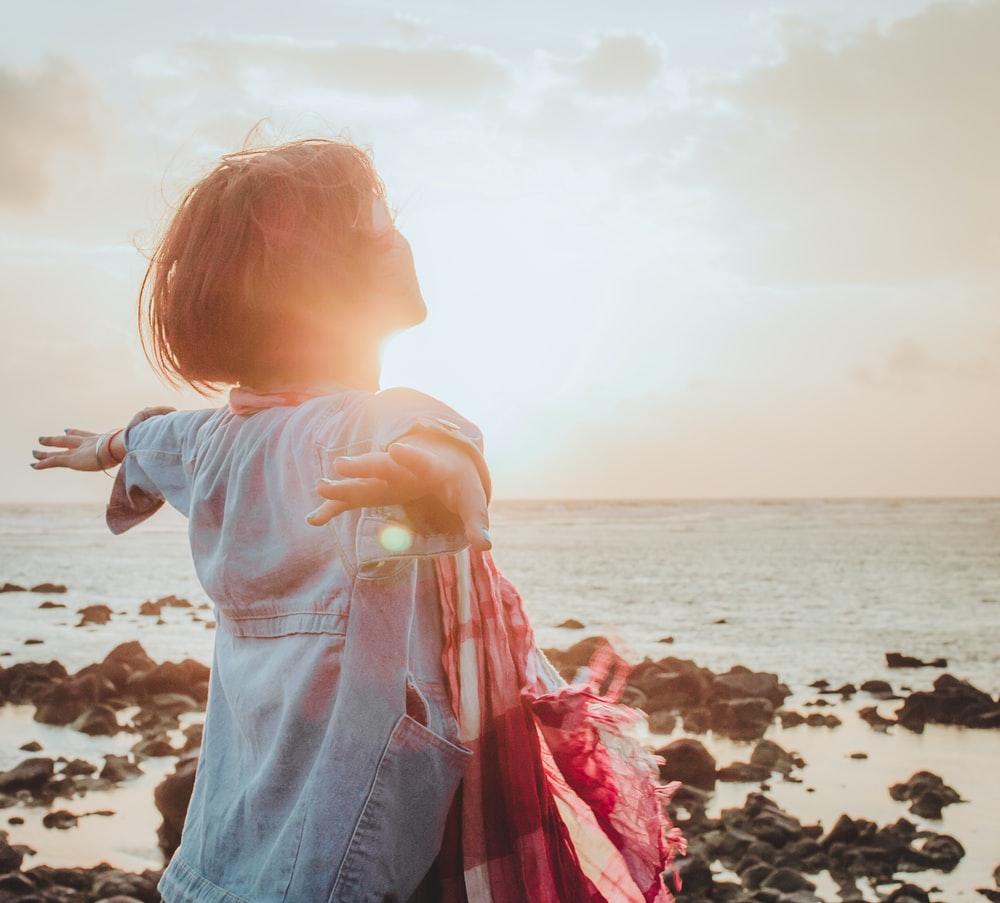 Join us for our Faithful: The Covenant God from Eden to Eternity, Friday mornings at 9:30 in the Connect Room of Skardon Hall. We will meet June 10, 17, 24 & July 8, 15, 22.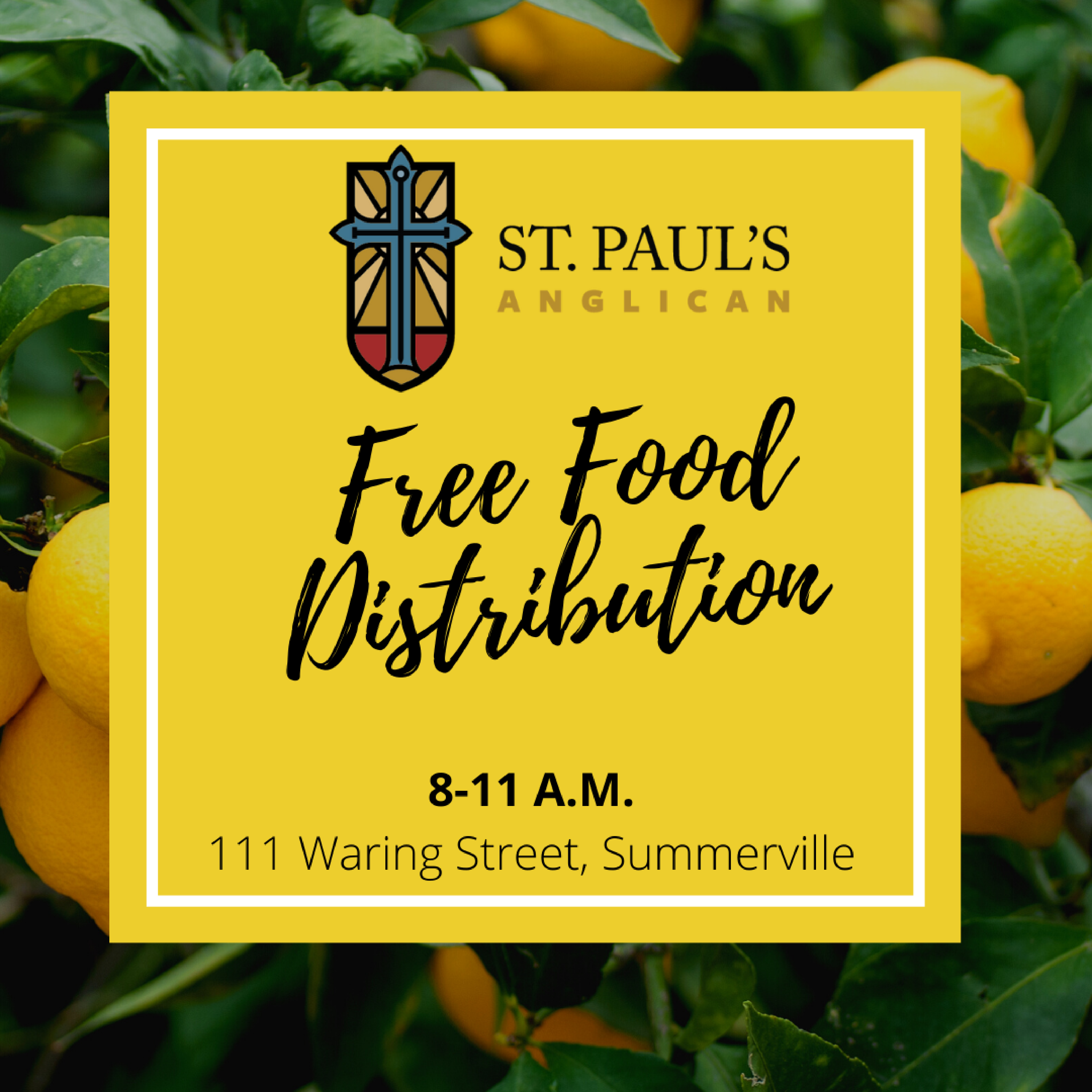 Next Food Distribution - July 9
Our monthly Free Food Distribution always needs more volunteers. Bring family, neighbors and friends and join us every Second Saturday at 7:30am. You will be blessed as you bless others. Volunteers meet in the roundabout in front of the Children/Youth Building. Food Distribution is from 8-11am.

Grief Share is offering a new recovery support group that started on Thursday, June 2nd at 6:30 p.m. in the Skardon Hall Library. If you are in need of a safe place where you can find help healing from the hurt of losing a loved one, please plan to join us.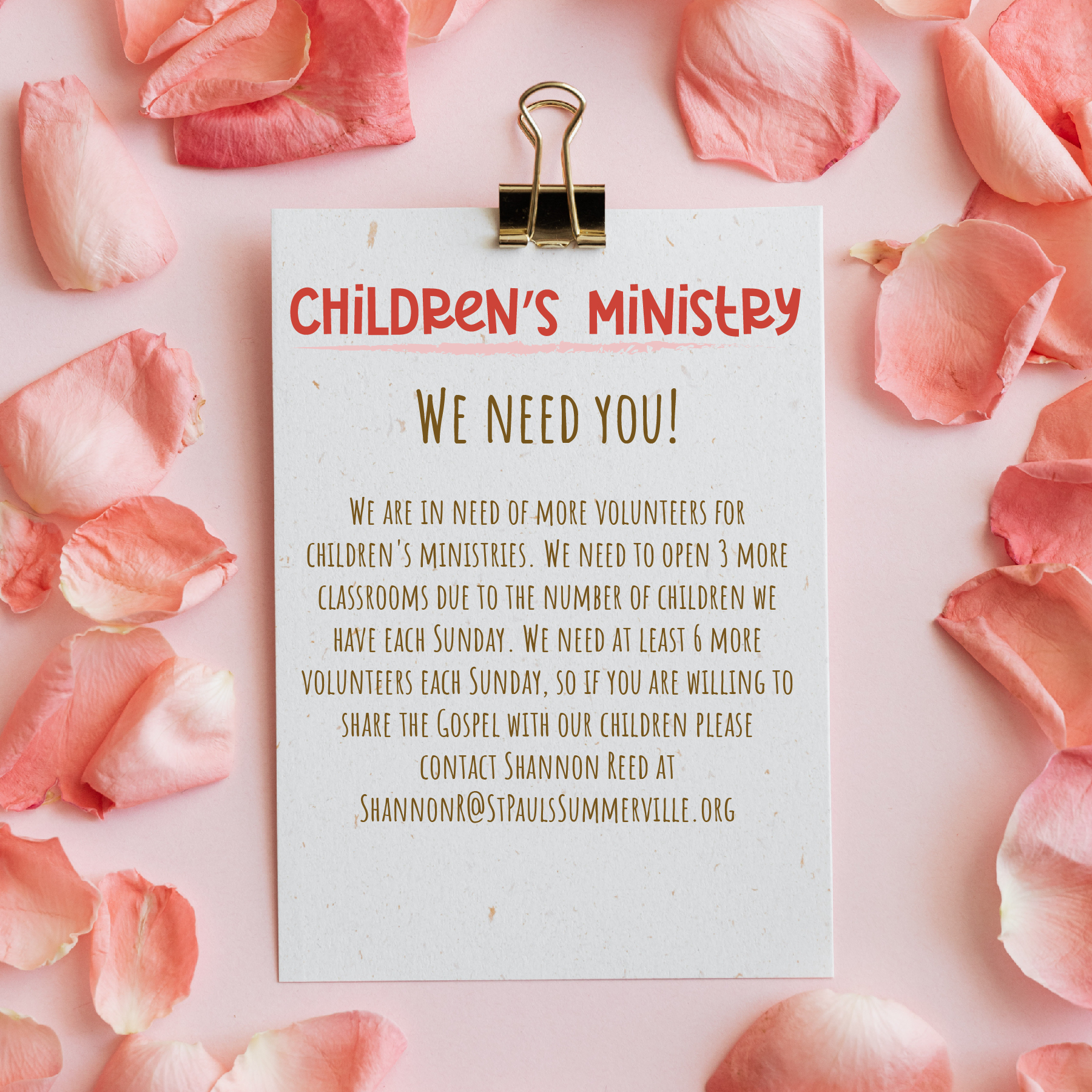 Children's Ministry needs volunteers for Children's Church this summer. We fully train all of our volunteers, provide all of the materials and lessons you need, and team you up so you aren't alone. Most of all you get to share the love of Jesus and His Good News with His precious children. You'll come away blessed. Email us today to learn how YOU can be part of the fun!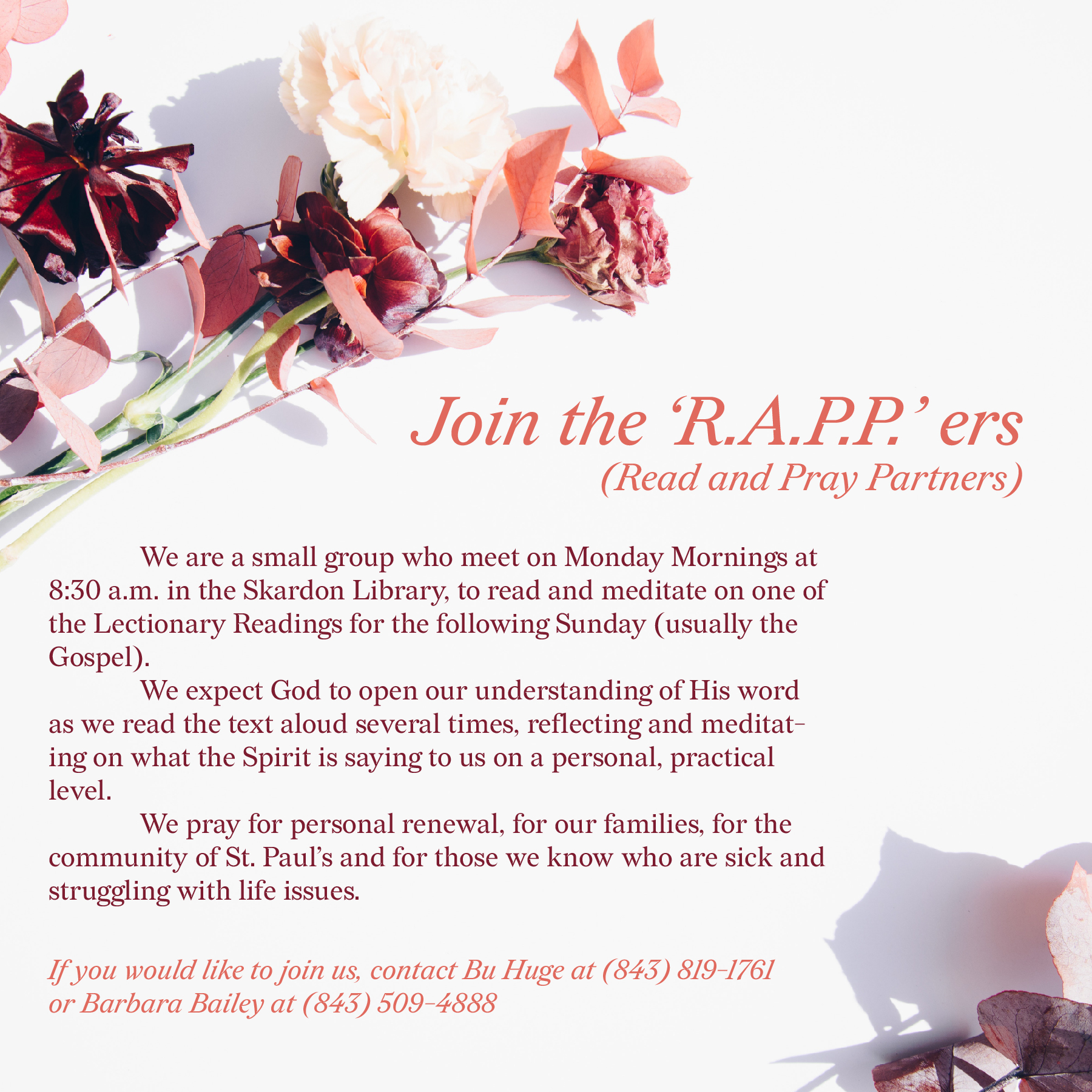 Join the R.A.P.P.'ers (Read and Pray Partners)
We are a small group who meet on Monday Mornings at
8:30 a.m. in the Skardon Library, to read and meditate on one of
the Lectionary Readings for the following Sunday (usually the
Gospel).
We expect God to open our understanding of His word
as we read the text aloud several times, reflecting and meditat-
ing on what the Spirit is saying to us on a personal, practical
level.
We pray for personal renewal, for our families, for the
community of St. Paul's and for those we know who are sick and
struggling with life issues. Please join us!
Our Mission & Vision
Biblically minded – Christ centered – Holy Spirit driven
Our core values at St. Paul's are the unwavering foundations upon which we seek to build Christ's church.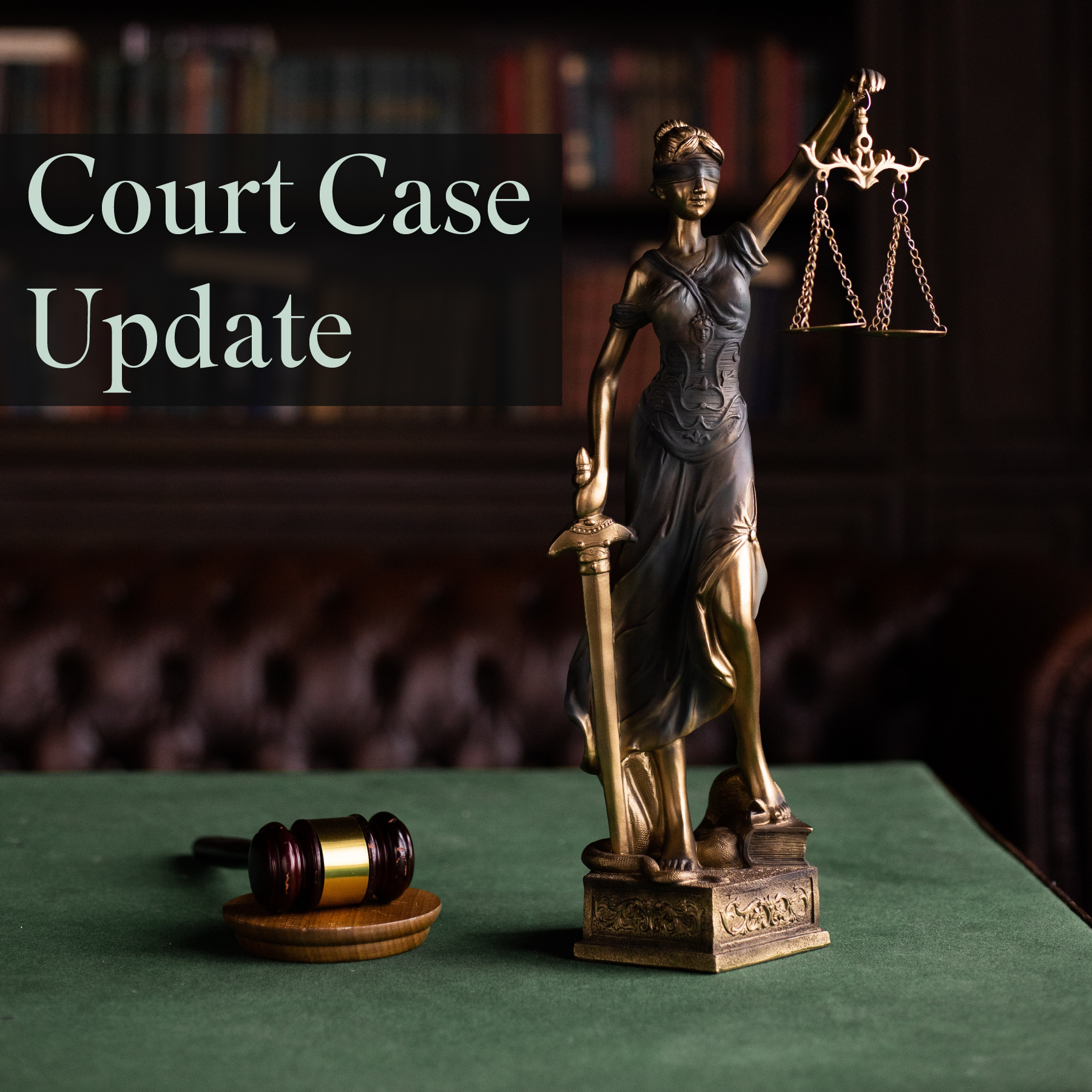 St. Paul's Summerville has received a favorable opinion from the Supreme Court of SC. This opinion means that the "most likely" outcome is that we are NOW the legal owners of our local properties. We need to offer prayers over those churches who have lost their property. We need to grieve over losing diocesan properties too. The opinion from the Supreme Court is available to the public and may be found here to be read in full if you so desire.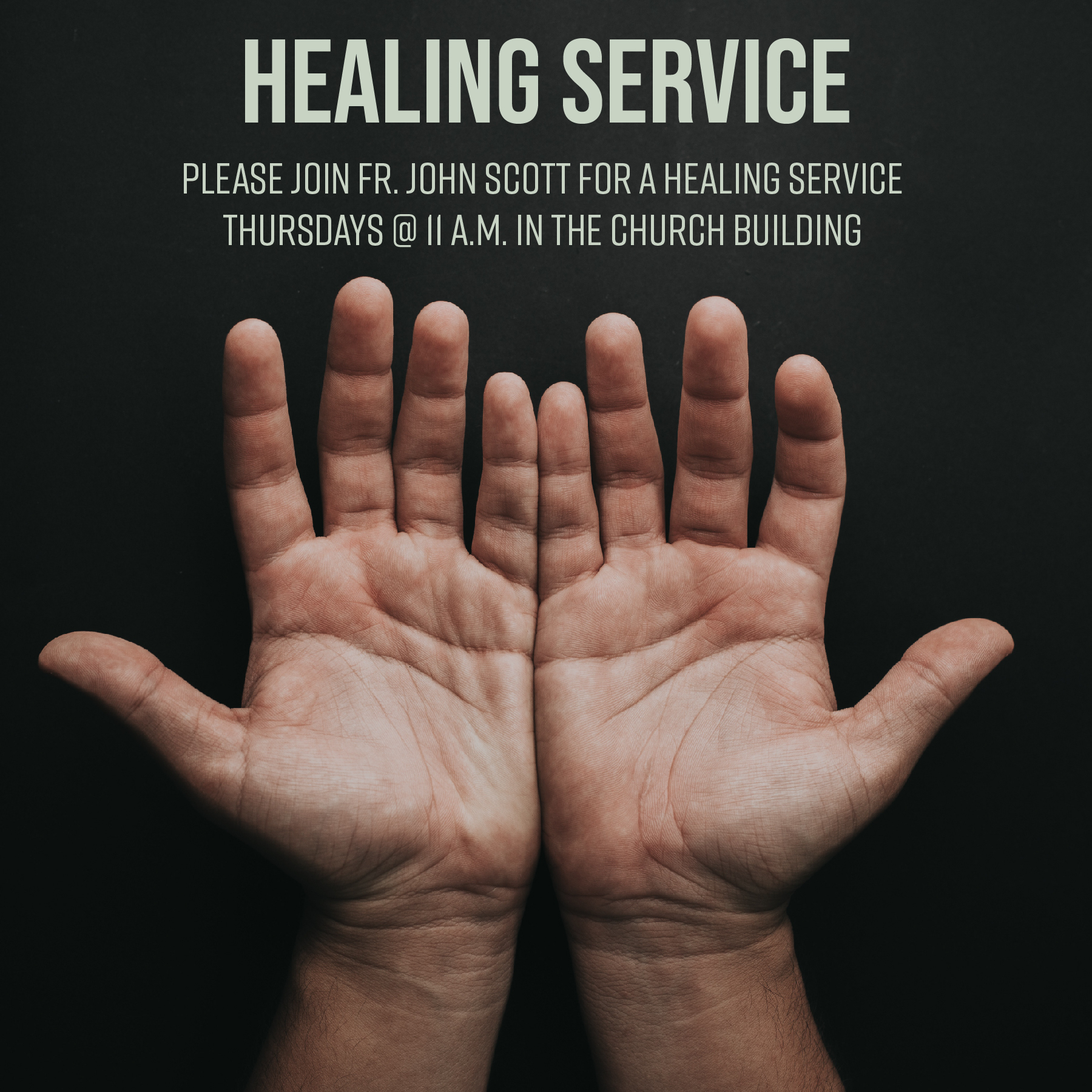 Thursday Morning Healing Service
Join us every Thursday morning in the Church Building at 11am!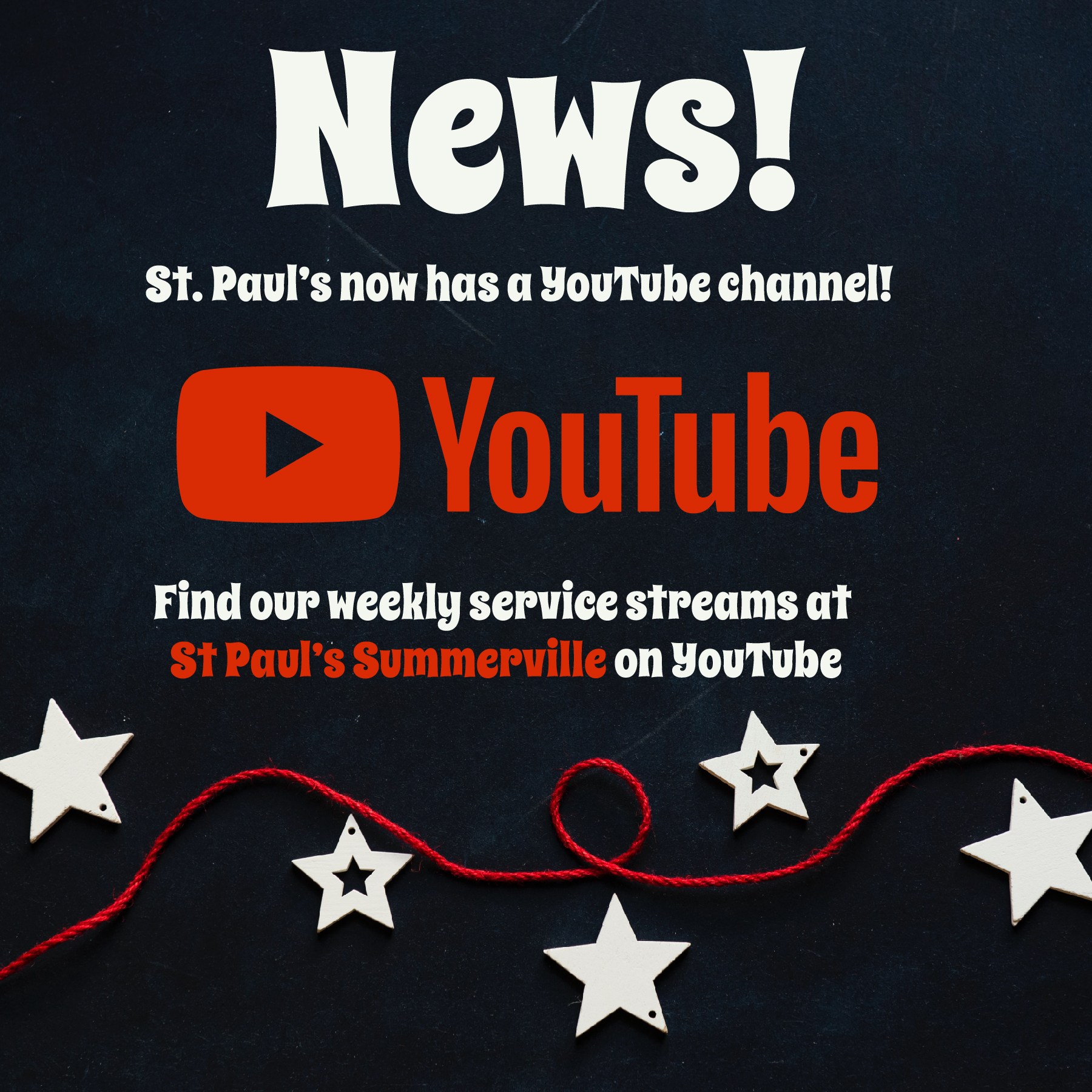 Each Sunday, St. Paul's records the Doar Hall Contemporary service so you can worship with us even when you can't be here on Sunday morning. We are happy to have a new YouTube channel for those videos!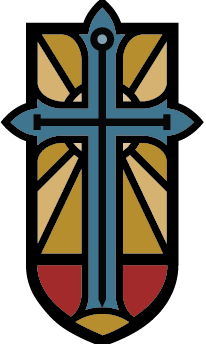 New Here?
We hope to create an atmosphere in which everyone feels welcomed with open arms. We are always excited to have new folks join us for Sunday worship or for any gathering throughout the week. Whether you are new to the area or new to church we hope that you will come for a visit and find a spiritual home and family in St. Paul's.
Small Groups
The perfect way to grow into our church family.
Preschool
St. Paul's CLC serves children ages 18 months to age 5. 
Resources
Want to know more about what we believe? Click here to view our roots.
Ministries
Women, Men, Children's, Young Adults…There is a group for everyone. You belong here!