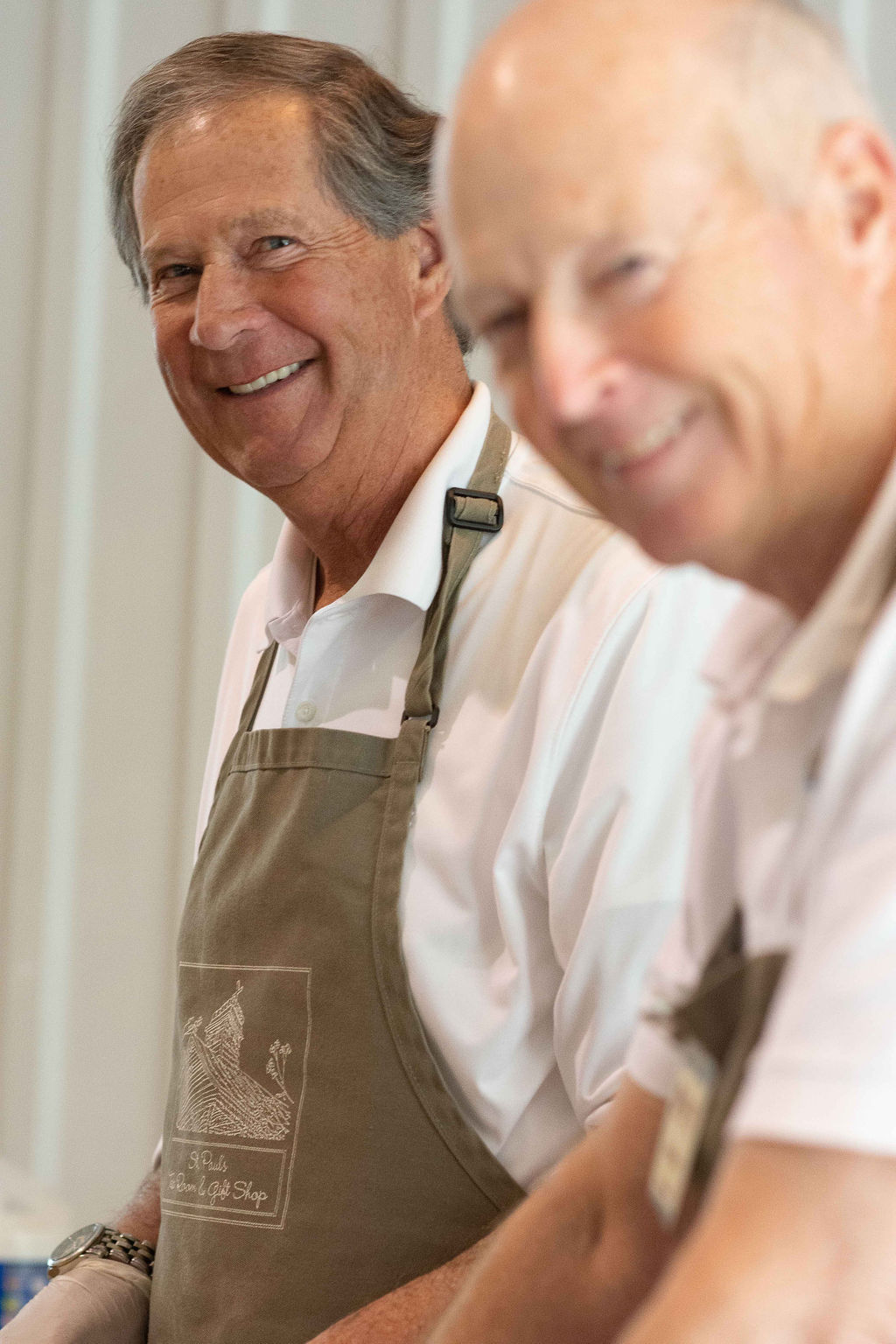 We had a banner year!
Thank you, thank you, thank you, to everyone who worked "heartily unto the Lord" to make this year's Tea Room & Gift Shop a wonderful success. We are still counting our totals of what can be given away to ministries and missions in Summerville and other places far and near. We know the Lord is smiling on our efforts for His glory and the welfare of His children everywhere. Please pick up your cake/pie containers and card tables in the Atrium. 
What is the St. Paul's Tea Room and Gift Shop?
In 2004 a group of people on the Outreach Ministry team was looking for ways to greatly increase the funds available to help those in need. The idea of a tea room, like others in the Charleston area, was well received and a group of women began talking to others at churches who were also offering tea rooms. With their years of tea room experience, and the determination of those great ladies on the Outreach Ministry team, we opened our doors to the community in the spring of 2005.  We cleared $22,432 from that humble beginning and tripled that amount in  2022.
We have opened each year since, with a Tea-Room-To-Go twice in the Covid-year of 2021, and consider the event a ministry where we offer hospitality, fine food, a pleasant atmosphere and high quality gift shop items.  All profits are used to support St. Paul's outreach and mission projects, locally, regionally and world-wide. The Lord has truly blessed every effort and it brings our parish members together in fellowship serving others.  
When it's springtime in Summerville, it's time for the light-filled Doar Hall to be transformed into a beautiful dining experience with smiles and friendly service.  Tables with fresh flowers and linens welcome visitors to enjoy an array of tasty dishes and homemade desserts.  The dining room can seat 220 people at one time.  We are open from 11:30 to 2:00 Monday-Friday for two weeks, with the dates varying yearly. A take-out option is also available to enjoy on our grounds or at home or work. . 
Our gift shop is a key component of this annual event.  It is always full of exquisite and unique handmade items supplied by our very talented and dedicated workroom ladies, and parishioners also add their own creations.   Additionally we have quality attic treasures, specialty items, jewelry, and plants.  You will surely find a perfect item to give as a gift or to keep as something special for yourself!
The Tea Room and Gift Shop has become a yearly tradition with locals as well as many who come from all areas of our state and region.  It will be our pleasure to welcome you to our next Tea Room and Gift Shop.